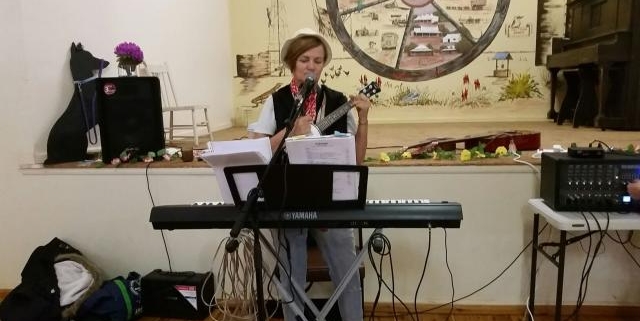 By Jayne Miller June 2018
Backroads NSW from Orange  Merriwagga and Tenterfield
2018 I signed up for the Banjo Patterson Poetry competition in Orange as I was working over there on return from the Territory.
I performed the poetry version of the Grafton Nimby Bridge as it was closer to a bush poem
As I'm not really a bush poet I was surprised to see my photo in their local paper which I have added here.
I took heart and decided to do my own gig at Merriwagga a nearby town to where I was working on contract out west.
The photos are of the gig in the famous Black Stump that boasts of the highest bar in NSW.
Initially built for the stockmen who could bring their horses in and not have to dismount while they had a beer.
Naturally, the horses got fed as well at the bar.
The locals were a bit surprised as I did my original poetry and there was mixed opinion in the audience who preferred to hear "the Pub with no Beer" for example.
I was inspired by the recent Backroads episode currently screened on SBS
I thought it might be an idea to do the backroads myself as a travelling poet.
Unfortunately, my Ford Falcon panel van decided to die and my job out west ended abruptly with the bush fires cutting access to work for the foreseeable future.
I attempted to recite at "Oracles of the Bush" yearly event in Tenterfield in 2021
Again, it was the Grafton Nimby Bridge poetry version.
It was really well received by some Graftonites who had travelled over to Tenterfield.
I met another poet like me over there and from there began to form the idea to run my own poetry event in Woodenbong.
https://jaynee.com.au/wp-content/uploads/2021/06/6898589159785201787.jpg
360
640
Enklo Web
https://jaynee.com.au/wp-content/uploads/2021/02/galaxy-1500x633.jpg
Enklo Web
2021-06-02 14:15:38
2021-07-19 15:55:12
Bush Poetry Attempts